Features and Specifications of Toro Sand Pro 3040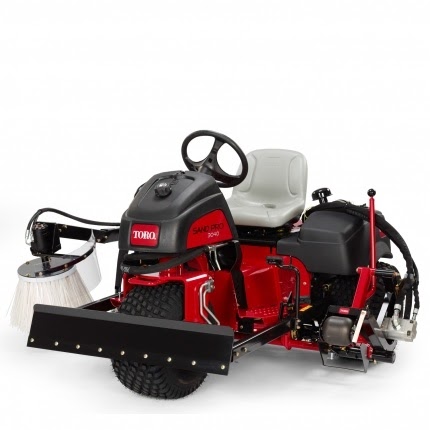 Each golf course maintenance equipment is very expensive and plays an important role in overall maintenance. Therefore, buying any golf course equipment requires extensive research as there are different leading brands manufacturing different models. You need to identify your requirements before you start comparing the features and specifications of different options. In this article, you will learn about the features and specifications of Toro Sand Pro 3040. 
This golf course equipment comes with the exclusive Quick Attach System that allows you to change attachments without using tools. There are over 25 attachments. This makes Sand Pro 3040 and 5040 versatile golf course equipment. You can also use them outside the bunkers. Sand Pro 5040 comes with optional front QAS. This allows you to add steerable front attachments. The flexibility of the golf course equipment helps in keeping bunkers in the best conditions. 
Features
Engine
Toro Sand Pro 3040 uses a fuel-efficient Vanguard engine. It gets its longer life from a fully pressurized lubrication system. It also runs cooler.
3WD Series/Parallel Traction Drive
Toro Sand Pro 3040 quickly completes a job in wet or heavy working conditions with its 3WD Series/Parallel Traction Drive that improves traction.
Easy to Use
This machine is very easy to use. You can easily prepare it for the next task. Your crew can achieve top operational efficiency if they have the right tool. Thanks to Toro Sand Pro attachments, even a new employee can perform the given task easily and quickly. 
Front Manual Blade
Torsion bar, paired hand/foot pedal and fingertip operation provide excellent performance in difficult areas. The front manual blade also makes it easy to operate Toro Sand Pro 3040. 
Maneuverable Steering
The 3040 model comes with a rugged gear system and 5040 comes with hydraulic power steering. You can steer front attachments more effectively. This contributes to the overall ease of use. Environmentally sealed design means reduced maintenance and long life.
Maintenance Friendly Layout
Toro Sand Pro 3040 is designed to reduce maintenance efforts. You can easily access parts that require regular maintenance and service. You can lift the operator seat and easily take off the side and center panels for regular maintenance. All you need to do is remove a few bolts.
Quick Attach System
It takes less than a minute to switch attachments. You don't need any tools. This allows you to get the job done faster. The Sand Pro 3040 and 5040 has rear QAS. The 5040 model has optional front QAS.
Mid-Mount System
You can adjust a flex-mounted toolbar that flexes backwards after coming in contact with rigid objects like rocks. Multiple locking depth settings are provided for scarification depth consistency between operators or from day to day. 
Quick connect hydraulics
It takes less than a minute to connect or disconnect attachments, thanks to its good connect hydraulics. You don't need any dedicated equipment for this. 
Specifications
| | |
| --- | --- |
| Engine | Vanguard® 4-cycle 16 hp (12 kw), gas |
| Ground speed | 0-16.1 kph (0-10 mph) |
| Fuel Capacity | 18.9 L (5 gal) |
| Length | 1.7 m (67.5 in) |
| Height | 1.15 m (45.26 in) |
| Weight | 422 kg (930 lbs) |
| Traction Drive | 3 wheel drive |
| Width | 147.3 cm (58″) |
If Toro Sand Pro 3040 meets your requirements, you can find a website offering new and used golf course equipment for sale.